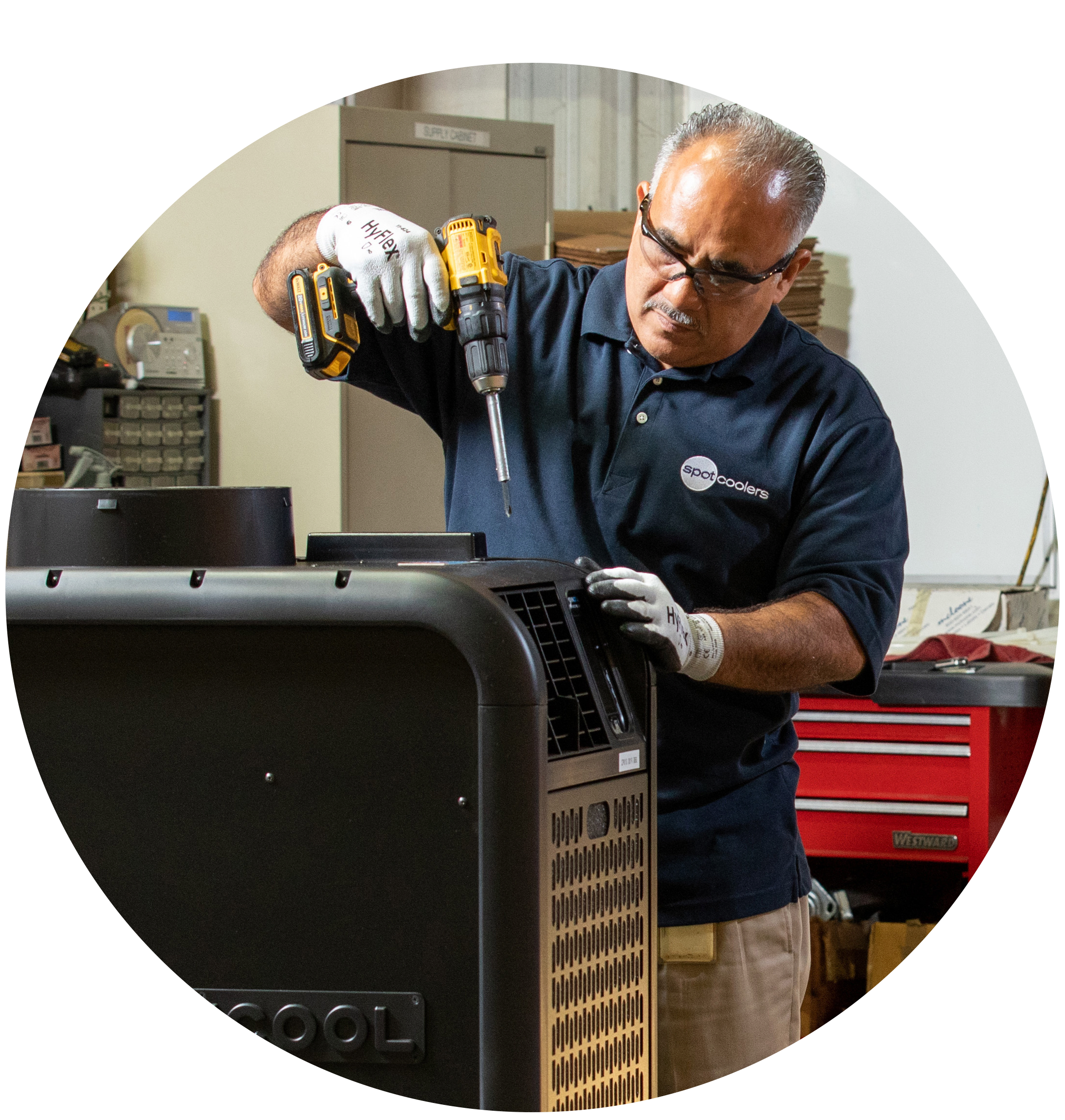 RENT OR BUY COOLERS AND HEATERS
Whether you need temporary or permanent solutions, Spot Coolers offers climate control options for every budget and project. If you're unsure whether to rent or buy, Spot Coolers will help you arrive at the best decision.
See below for help in deciding what is right for you. Whether renting, buying, or buying used, you can be confident that the Spot Coolers team is here to help.
Contact Our Expert Team

WHEN SHOULD YOU RENT?
Rentals are often preferred for short-term needs and if speed of response matters, for example if a central system has failed. A quick response can make all the difference. Spot Coolers strives to deliver within 2-4 hours, with 24/7 service available.
Common short-term needs include:
Emergency repairs
Scheduled HVAC maintenance / Planned shutdowns
When replacement units or parts are delayed
When construction projects are delayed
Coverage while permanent heating and cooling solutions are finalized
Special events that require cooling or heating
Supplemental temperature control during seasonal highs and lows
Long term rentals also often make sense. Storage space constraints, leaving equipment maintenance to others and even the preference to use operating funds in place of capital expenditures are all common reasons to opt for long term rental.
WHEN SHOULD YOU BUY?
Owning is often preferred if your organization has frequent needs or is looking for an easily deployed permanent solution.
If your organization has recurring, frequent needs for portable solutions
If you manage a very large building or a multi-building campus such as a health system or educational campus
If the use is permanent such as providing dedicated cooling for a data room
Spot cooling manufacturing processes
Situations where the cooling or heating location may change over time, highlighting a need for portable equipment
Spot Coolers sells both new and used equipment. Used equipment is an especially smart investment in tougher application environments, such as brick yards or steel mills. When the lifespan of the unit is of concern, opting for used portable HVAC equipment is a popular choice. Spot Coolers units are stored indoors, you can be confident that the unit you're getting is well-maintained and will get the job done.
HELPFUL INFORMATION TO HAVE WHEN CONTACTING SPOT COOLERS
When you're ready to talk with us, answers to these questions will help us discuss the best solution choices with you.
What specifically are you trying to cool or heat?
What type of space is it?
What are the dimensions of the space you're trying to heat or cool?
Will the temporary cooling or heating be placed inside the space or outside of the space?
How will the heat be exhausted out of the space?
What power sources are available?
Of course, our team is also more than happy to help you answer any of the above if needed. For more information, please give us a call or fill out our contact form.